Ford Racing History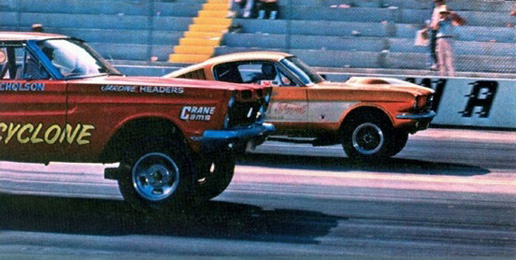 "Dyno" Don Nicholson and Dick Brannan
Ford performance enthusiasts owe many thanks to names such as Brannan, Glidden, Holman & Moody for their contributions to Ford racing and the impact it has had on street performance.
Dick Brannan was the pioneer of the original Ford Drag Team, which was sponsored by Ford, beginning in 1962. (A special thanks goes to Dick Brannan, for his gracious contribution to this web page.) Some of the original Drag Team drivers were Gas Ronda, Les Ritchey, Mickey Thompson, Phil Bonner (Warbucks), Al Joniec, Ed Terry, Len Richter and Dick Brannan.
Click on the thumbnails to view the full size images:
The "FORD DRAG TEAM" was Ford's factory drag racing team for 1969 and 1970. The team was quite active, running super stock and match races, and giving performance seminars at Ford Dealers. The eastern Team Captain was, the "Georgia Shaker" himself, long-time Ford pilot Hubert Platt. Platt's teammate was Randy Payne. The western Team Captain was Ed Terry partnered with Dick Wood.
Al Joniec Butch Leal Hubert Platt Phil Bonner
Al Joniec won the 1968 Pomona Winternationals in a 1968-1/2 Cobra Jet Mustang
Butch Leal (California Flash) raced a 1964 427 Thunderbolt Fairlane
Hubert Platt (Georgia Shaker) the Eastern Ford Drag Team Capt.
Phil Bonner (Warbucks) raced several cars, including some fast Falcons
Dick Brannan Al Joniec's Mustang Jesse with Dick's Galaxie Dyno Don's Mercs
Jesse Magruder and current Ford Drag Team Capt. Kent Magruder with the original Ford Drag Team Capt. Dick Brannan at the 2007 FordSouth show in Atlanta. Of course, Dick and the others had the distinction of being factory sponsored.

(L-R) Kent Magruder, Colorado's "Fast Eddie" Stokes, Melanie and Phil Bonner
Pictures courtesy of Fordflashback.com
Using two 1969 428 Cobra Jet Torinos and two 1969 428 Cobra Jet Mustangs in Super Stock, and two 1969 Mustang fastbacks equipped with the famous 427 SOHC for match racing, these cars were drag strip terrors. They were painted blue with white hoods and white '69 Boss 302 style stripes and also a flip-flop scheme of white with blue stripes. The match-race SOHC cars also featured a huge Boss 429 style hood scoop, and American Torq-Thrust wheels. Both SOHC Mustangs were converted to 1970-style front end and rear taillamps after the '69 season concluded.